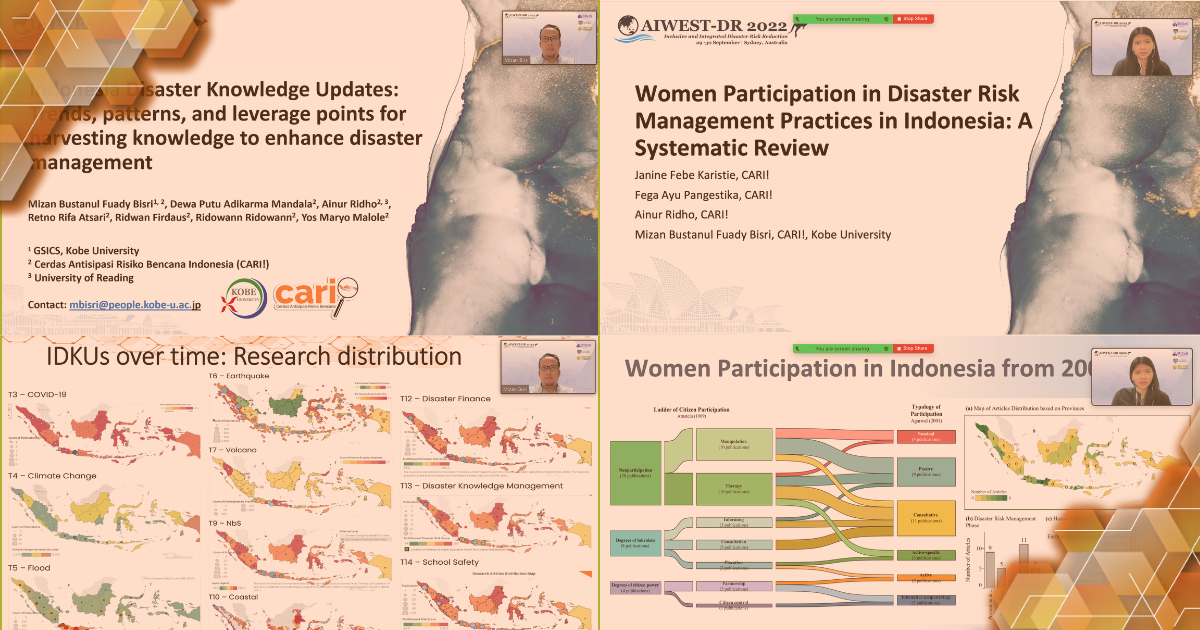 CARI! Participation in The 14th Aceh International Workshop and Expo on Sustainable Tsunami Disaster Recovery (AIWEST-DR) 2022
#Events & projects update
24 October 2022
Author : Comms Cari
Editor : -
On 29-30 September 2022, CARI! participated in the 14th Aceh International Workshop and Expo on Sustainable Tsunami Disaster Recovery (AIWEST-DR 2022). AIWEST-DR 2022 was co-hosted by the University of Sydney, the Tsunami and Disaster Mitigation Research Center (TDMRC) at Universitas Syiah Kuala, and the International Research Institute of Disaster Science (IRIDeS) at Tohoku University. The conference aims to bring together academics and practitioners to share lessons and recent advances in multi-hazard disaster risk reduction, providing an interdisciplinary platform to further disaster scholarship and practice.
In this event, CARI! made two important presentations that leverage on the Indonesian disaster knowledge base. Our Principal, Mizan B. F. Bisri, Ph.D spoke at the Priority 1 session: Education and knowledge production in DRR to present "Indonesia disaster knowledge updates: Trends, patterns, and leverage points for harvesting knowledge to enhance disaster management". In this session, we showcased and elaborated the trend, pattern, and gaps of disaster knowledge production in Indonesia across thematic issues, time period, disaster risk management phase, and its inter-relations. The presentation could inform future prioritization of disaster-related research in Indonesia. We call for more research and knowledge production outside of Sumatra and Java Island, research on locally-relevant systematic and cascading risks, and research that informs the quality of response and recovery in the country. The presentation contributes to further enhance disaster-related knowledge management as a meaningful science-policy interface.
At the Priority 2 session: Inclusive and community-based DRRMs, Janine Febe, our Disaster Management Analyst, gave a presentation on "Women participation in disaster risk management practices in Indonesia: A systematic review". This study aims to identify the current women's participation in disaster management practices in Indonesia and construct the extent of their involvement in each disaster phase. In this study, we emphasize the importance of women participation research, particularly outside of western Indonesia. There is a clear demand for more research that covers mitigation, preparedness, and response phases across hazards. In conclusion, we encouraged women education and training, particularly those that contribute to health, food, construction, information technology, finance, and business sectors that could contribute to community resilience.
---