Recognitions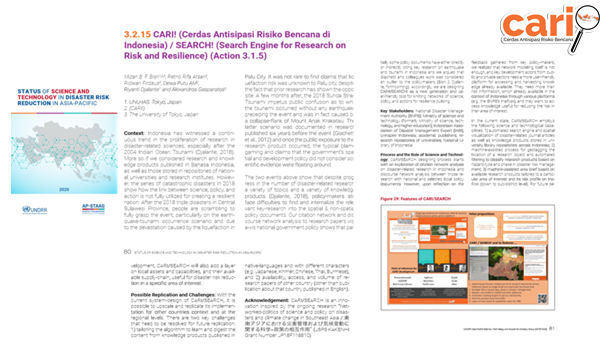 CARI!'s innovations, roles, and features were featured in United Nations Office for Disaster Risk Reduction's 2020 Status of Science and Technology in Disaster Risk Reduction in Asia-Pacific, a publication based on the application of science and technology for disaster risk reduction in support of the Science and Technology Roadmap of the Sendai Framework.
---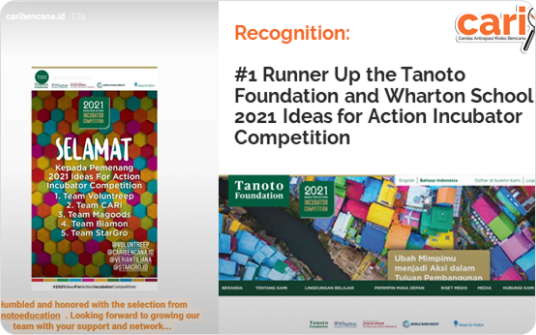 Through our disaster information and analytics tool, CARI! was awarded as Runner Up at the 2021 Ideas for Action Incubator Competition - a competition to develop and share ideas on financing solutions to achieve the United Nations' Sustainable Development Goals (SDGs) - which was held by the Tanoto Foundation and Zicklin Center for Business Ethics of the Wharton School, with the support of World Bank.
---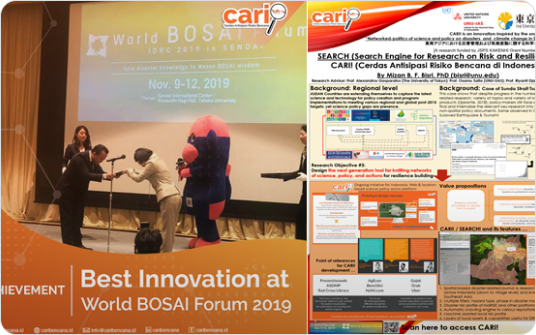 In 2019, CARI! was awarded as #1 Best Innovation at the World Bosai Forum, a global forum that brought together a broad range of people working to reduce disaster risk worldwide, aiming to share experience and knowledge and to stimulate more effective approaches.
---