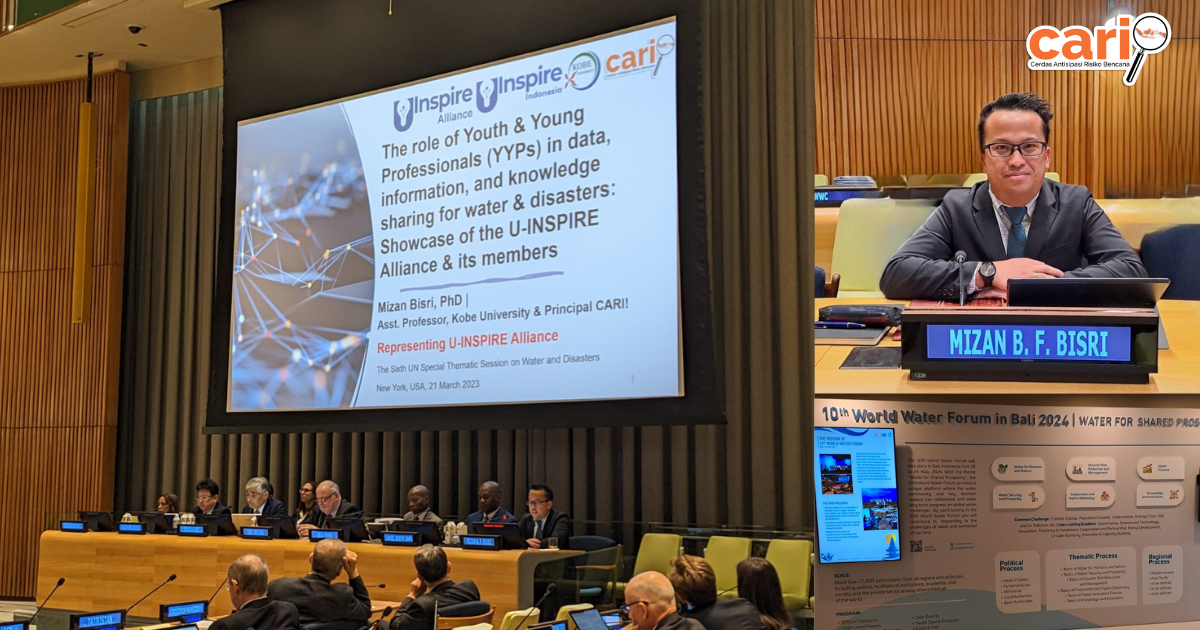 CARI!'s Contribution to The 6th United Nations Special Session on Water and Disaster and The 2023 UN Water Conference
#Events & projects update
28 March 2023
Author : Comms CARI!
Editor : -
Using IDKU and CARI! operations as evidence, and others U-INSPIRE Alliance members portfolio, CARI!'s Principal, Mizan Bisri, PhD delivered an intervention entitled "The Role of Youth & Young Professionals (YYPs) in Data, Information, and Knowledge Sharing for Water & Disasters: Showcase of the U-INSPIRE Alliance & Its Members" in front of the UN Member States and key development partners during the 6th UN Special Thematic Session on Water and Disasters in UN Headquarters, New York, USA on 22-24 March 2023.
The Special Session was organized by the High-level Experts and Leaders Panel on Water and Disasters (HELP). The recommendation from this session was then deliberated in various sessions within the 2023 UN Water Conference. In this session, Dr. Bisri showcased the three roles of YYPs in data, information, and knowledge (DIK) sharing for water and disasters: 1) Data, information, and knowledge producers; 2) Knowledge brokers or "catalytic beings"; and 3) Knowledge-based synthesizers and implementers. CARI! is one of the examples that fit the three roles of YYPs as producer, broker, and synthesizer in DIK.
Through Dr. Bisri's presentation, the YYPs call for stakeholders to work together and leverage the three roles of the YYPs, which would be instrumental in materializing at least two "game changers" discussed over the course of the UN 2023 Water Conference: better data and information management for water and early warning for all initiatives.
As one of the proponents of HELP, H.E. Basuki Hadimuljono, Minister of Public Works and Housing, Government of Indonesia also witnessed our showcase. Minister Hadimuljono expresses his compliment to the works of CARI! that signify the leadership of YYPs in water and disaster. In his remarks during the Session, he underline the importance of YYPs to take initiatives at the local, national, and global levels, which will also be highlighted in the 10th World Water Forum, to be held in Bali, Indonesia, in May 2024.
---