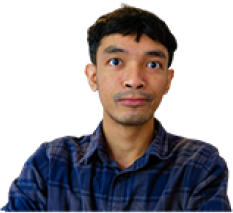 Dewa Putu AM, M.Sc.
Data Analyst
Bio
---
LinkedIn | Personal Blog | Facebook | Instagram | Twitter | Medium | Tableau Public
Dewa is a data and information practitioner who is mostly involved in disaster management. Dewa has a formal study background in applied meteorology and continued with environmental science - Geoinformation for disaster management. The topics of concern for Dewa are data and information management for disasters, disaster risk assessment, early warning systems, and operations control centers, as well as hydrometeorological disaster studies.
In carrying out its role, Dewa has participated directly in several disaster emergency response operations such as the eruption of Mount Agung in 2017, the forest fire emergency response operation in 2018 and the 2018 Central Sulawesi earthquake emergency response operation.
In recent years Dewa has been focusing on technical assistance for managing data and information on disaster operations control centers, both in terms of making SOPs and in assisting the process of integrating disaster data at the provincial level.
In everyday life, of course, Dewa is not only concerned with data about disasters. There are many things that Dewa likes to do in spending time, such as playing guitar, jogging, reading fiction and non-fiction books to playing games.